---
---
Without a doubt, keyword research is the backbone of SEO. I would go as far as saying that keyword research is the foundation of all marketing funnels. If we ask ourselves – "what are keywords?"

The simplest answer is — Keywords are synonyms for "searches" and searches are expressions of what people want.

In marketing, you can't get more foundational than researching what people want. Ultimately, that's what keyword research boils down to. You are attempting to understand searcher behavior so you can provide searchers with what they want.

Google's machine learning algorithm is constantly trying to do this – and SEOs should be doing the exact same thing with their keyword research.

It's not about 100,000/mo volume keyphrases and it's not about getting the highest volume keywords ranked. Keyword research ties into what you offer your customers and what they need to trust you and to ultimately buy from you.
Keyword Research Basics
Keyword research touches on a few different subjects. First, it's about the buyer's journey. The idea behind this is that we should be creating content that touches the consumer at each phase of the journey to a purchase.

Informational

(i.e. what is, why does, how do, etc.)

Commercial

(i.e. comparative searches – the best colors, red vs. blue, etc.)

Transactional

(i.e buy, discount, sale, cheap + narrow KW search [cheap women's running shoes])
Each phase brings the consumer closer and closer to being purchase ready until they start searching with transactional / buyer keywords. ← (This takes you to a list of 220 buying keyword modifiers if you're interested in finding examples).

After the buyer's journey, the next step to KW research is about short tail and long tail keywords. You need to nail down your SEO strategy for your own business of for your client.

I'll go into this a little bit later after I dig into the meat of using tools to get keyword data because this will largely determine the strategy you pursue.

The final step of keyword research is to establish keyword clusters.

Clustering is used by SEOs in a couple different ways, but the ultimate goal is to aim for relevance through an understanding of semantics (similar to the overused acronym LSI).

Now that we've laid the foundation – lets get into the glamorous part of keyword research – acquiring all of that beautiful keyword data.

Getting Search Volume, Related Keywords, and CPC Information
The first thing you'll want to do is to get the competitor data and current ranking/traffic data for your own website.

To check my own site, I just log into Search Console. Since I have it integrated with Raven Tools, I just view Search Console from within the platform.




A lot of times you can find some keywords you didn't intentionally target and then get ideas for dedicated content pieces. You can also understand how additional content. I like to use this data to see how people search to get to my pages.

Not only can you get keyword ideas, but you can also gain some optimization insight.

Once we have this – we can move on into competitor research.

***Note*** If you have a fresh domain, you'll obviously skip this step.

Let's get started on the meat and potatoes of keyword research.

I'll use the subject of "keto" to demonstrate how to research your keywords.

First step is to create a google sheet that contains some known seed keywords and their variations. Mine looks like this one.



After you spend 2 minutes creating this sheet, let's identify our competitor domain by inputting a seed keyword into Google.




You want to look for a big website, so you'll always want to start with the short tails.

The first 3 results are all one domain, so I immediately know which domain I'll research (cough cough *healthline* cough cough).



Healthline has a plethora of pages dedicated to keto, and it's the perfect website for our example.

Lets dig into the actual website's data.



In Raven Tools, I see 1,000 keywords and I'll be able to filter based on my specific objectives.

My first objective is to get a list of the primary topics in the realm of my seed keyword.

After scrolling through all of the results, I've found the following:
Keto pills

Keto diet

Keto food

Keto meal plan

Keto results

Keto food plan

Keto shopping list

Keto menu
When you're comfortable with this list of keywords, I would hop over to the Keyword Suggestion Tool. In here, you'll be able to double check for missed opportunities for primary keyword targets.



What I like to do is to use keyword suggestions on my primary keywords and on my seed keywords and then I'll pull in the most relevant information based on AdWords competition, CPC, or search volume.

After I go through the suggestions for a few minutes, I've dug up a couple other keywords that have a few variations: Keto weight loss, keto for cancer, and keto before and after.

Apply Search Modifiers to Find Content Ideas for Keywords
Curious what a content modifier is? Have no fear, I'll include the 4 I regularly use below:
Now that we have those, we can apply these filters to our competitor domain and we can get home in on our competitor content a bit more.



Do this filter for every modifier and you'll get some solid keyword insights.

Keyword Ideas for What Modifier:

What is in the keto diet?
What is the keto diet good for?
What to expect on the keto diet?
What is in a keto meal?




Next up is the why:

Why Keto works
Why do the keto diet?
Why does ketosis work?
Why is keto high fat?

I'm going to pause real quick to point out that we just stumbled upon an amazing content lead. Did you see what I just saw? I marked it in bold.
"High Fat" is another subject that is related to keto, which means that we can repeat the research process for the keyword "high fat foods" to get another whole list of content ideas and keywords.



One last thing to point out about the keyword checker tool. You'll be able to point to a keyword from a competitor or from your own domain and then show traffic cost if you were to pay for the traffic, and this should help you demonstrate the ROI of targeting a keyword.

If you rank position 2 for "why keto works" it is estimated that you're receiving $31.25/mo in traffic.

Not to mention that every article helps you in creating relevance, which means that you'll have an easier time ranking for difficult queries.

Keyword Cluster Technique
The other goal of keyword research is to figure out Google's understanding of semantic ranges for words. I do this with a little bit of manual Googling and with the Keyword Checker tool.

If you've ever seen the "people also ask" section of Google, then you'll know exactly where I'm going with this bit of advice.


If you click on any of these drop downs you'll get a list of even more keywords. This isn't just important from a content ideation perspective, but you also know how to build a power page if that's the strategy you want to with.

Power pages are often the ones that rank for hundreds of keywords on their own. The page https://www.healthline.com/nutrition/ketogenic-diet-foods can be analyzed on its own and then we can see which keywords are more related in Google's eyes.

Let's filter out the short tail and filter based on position 1-5.



At this stage of KW research, you probably won't identify anything new that you haven't already found, but you'll be able to know how to design the power page and which topics you could target. This method tells you how Google understands semantic relevance from the seed keyword.

Seed Keyword: Ketogenic

Keyword Cluster: Ketosis diet, keto menu, is keto a diet, keto food, ketosis, keto for beginners, diet list, greek yogurt, fruit, dark chocolate, high fat, cottage cheese, what to eat, carbs in shrimp, keto meats, ketogenic eggs, vegetables, etc.

Page: https://www.healthline.com/nutrition/ketogenic-diet-foods

Is Keyword Clustering useful?
Google is smart, so effective grouping helps your website appear more relevant to the search engine. Here are some reasons for using keyword clusters:

You can save money if you are running PPC campaigns to acquire paid traffic as compact ad groups can improve CTR and get higher Quality Scores.

Keyword grouping helps to enhance copywriting efforts and the quality of the content you are publishing on your site – both to attract visitors and robots.

Keyword grouping helps to avoid keyword cannibalization, structure the site correctly, and set the keywords you are using in your SEO efforts.
Search Engine Journal

Great keyword research gives you keyword data + the strategy for using your keywords in both SEO and PPC.  While you do your keyword research for SEO, keep in mind that SEO and PPC have a close relationship when it comes to keywords. Regardless of whether you do SEO or not, you can easily pitch PPC or assist the PPC team.

Identifying the Difficulty of a Topic
A part of keyword research is identifying the difficulty of your identified keywords. For this step I'll just use on keyword to illustrate my point. Let's use "why keto works".

For this part of research, I go to keyword research central and type in my keyword. In 5 seconds you'll get trust flow, backlinks, citation flow, page authority, and domain authority of the ranking domains.




Keyword difficulty should be based on your known page authority for your blogs. Raven's has about 18 for a fresh blog due to our authority and the way that link juice is passed.

The average domain authority is 61, although we also see domains as low as 26, 31, and 35 with PA of 16, 8, and 24 respectively.

The average page authority is 33. To get this level of authority for a page, you'll want to aim for about 30 low quality links (PA 1 – 20). As you go up in niche relevance, traffic, and RDs, you'll be able to rank better and better with your off-page SEO.

In general, here is my KW difficulty conversion:

Score    |  Backlinks
| | |
| --- | --- |
| Very Easy | 1 – 10 |
| Easy | 11 – 20 |
| Medium | 21 – 35 |
| Hard | 35 – 190 |
| Very Hard | 191+ |


For our particular example, we see the "why keto works" only has 2 domains with more than 1 backlink to the page.

Based on our moz metrics mixed with our majestic backlink data, you should be able to get to page 1 by going for an upper low quality PA of 20 to a medium low PA of 30, and this can be achieved by pointing 30-40 links at the domain. The better the links, the better your results.

***Note***: All domain and keyword scores are just guesses. In my personal opinion, I don't rely too heavily on them in 2019. What I've noticed is that you can be massively competitive for a keyword if you satisfy the essential 4 of SEO – Technical, Relevancy, Authority, and Popularity.

Fresh content, relevant backlinks, technical health, and popularity can make up for a lot of deficiencies in "authority", which is what most SEO tools seem to rely on when spitting out metrics.

Just remember, backlinks are powerful, but it definitely isn't everything.

But I digress.

The last thing you should do is verify your data by viewing a differant data source. With keyword research, every source of data can vary, which is one of the reasons why Raven Tools has an upper hand in the keyword research realm.

You can take a look at keyword planner data (AdWords data) in the same keyword research tool that gives you Moz, Majestic, Data for SEO, and Authority Labs.



This tool will give you competition graphs, search volume, and it will give you Google's related keywords.

The next thing you may want to evaluate is whether the historical search trend is in your favor. In other words – are you targeting something that people are losing interest in?



Seems pretty stable – I think this one might be a winner.

For those wanting a video breakdown of this part of the tool – we've got you covered.

Video of Research Tool (45 second overview) 

Create Your Keyword Battle Plan by Creating Priority Lists
Once you've identified your full keyword list with attached difficulty numbers, begin to filter based on the difficulty.

The keywords with the lowest difficulty should be the ones you target first. Reason being – you want to start bringing in traffic as early as possible. When you start going for the harder queries you'll be able to send your visitors directly to the more difficult page by using your easier pages as gateways. This way, you'll be able to boost your ability to rank for harder queries by satisfying the 4th facet of SEO – search popularity. Once you've done this step, have your traffic you can actually start to predict & forecast your potential SEO traffic.

You've finished your keyword research! The final step we recommend is to begin tracking your keywords and to place each keyword into Keyword Manager.

From anywhere in the tool, click the gearbox and add your keywords to SERP Rank Tracker or to Keyword Manager.




Once you've got it added, you'll see an aggregated dashboard of keyword data.



The nifty part about this dashboard is that you get to see Google Adwords data side-by-side with search console, google analytics and you can see if you have any active or requested links associated with your keyword. We use anchor text matching to figure out if you have links that match with your target.

***note*** you can go super aggressive with your internal linking anchor text without a penalty, so be sure to use exact match as much as possible.

Conclusion
Hopefully, this helped you understand the quick and easy way to research keywords. If you're interested in learning about more of the tools or if you're interested in link building or other various SEO information, we recommend the following pages:

SEO Tools – Advanced SEO – How to Conduct a Site Audit – The Efficient Way of Keyword Tracking – How to Research Backlinks – How to Build an SEO Report

Keep an eye on your marketing campaign progress by tracking your keyword rankings across multiple search engines, devices or zip codes on a daily, weekly or monthly basis.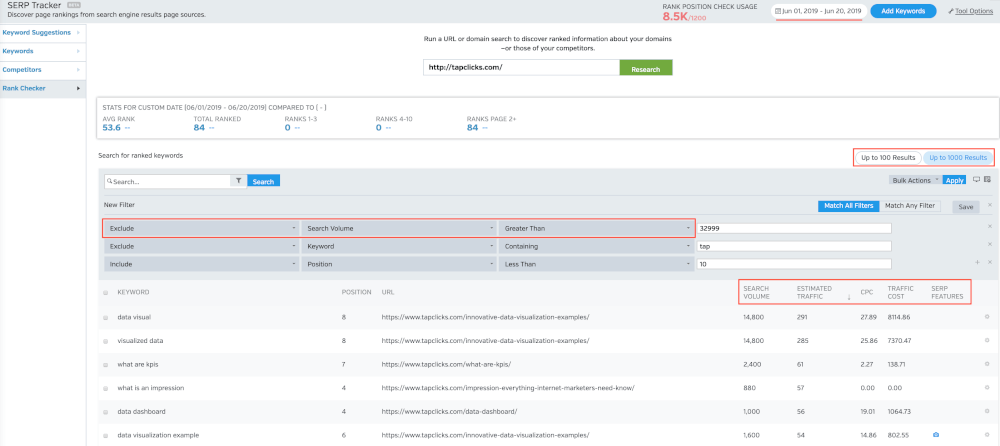 Give your keyword research a massive boost by immediately getting actionable intelligence on the competition.