---
---
Your website is one of your business's most important assets. It showcases what you do and what you believe in, it brings in new customers who may have never found you otherwise, and it helps your business grow 24/7.
Jump straight to: How to Audit a Website with Raven Tools
But if your website has major technical or SEO errors, its ability to be your best marketing tool is seriously hampered. You could lose your rankings position in search engines, meaning fewer people will see your website as an option when searching. Or, those who do make it to your website may back away quickly if there's something that doesn't work properly or isn't user-friendly.
Why spend all that time and money to make your website a flashy digital business brochure if you aren't going to keep it updated and useable for your customers?
SEO Website Audits are Your Friend
A good, thorough website audit will show you what needs to be fixed to make your website more useable for your visitors and to help it perform better with the search engines.
If you search, "How to conduct a website audit" in Google or other search engines, you're likely to get complicated, multi-page spreadsheets or lengthy instruction manuals that tell you all the nitty-gritty details to finding your website's issues. Using these traditional methods of website auditing are time-consuming, cumbersome, and not very accessible to anyone not well-versed in how websites work.
Rather than spend tons of your time trying to figure out complicated audit methods, or paying someone else a whole bunch of your hard-earned money to do the job, use the user-friendly automatic Site Auditor Tool from Raven Tools.
It will cut your auditing time immensely, give you all the data you need to make your website better, and give you an action-item checklist on how to improve your website.
Why Do I Need to Perform a Website Audit?
Websites aren't just "set-it-and-forget it". They need to be ever-evolving assets to your business – growing and changing as your business goals, marketing strategies, and technologies change.
If you just create a website and don't touch it for several years, it's likely to have a whole host of technical and SEO problems that can prove harmful to your business's online presence.
Whether it's slow loading time, broken links, or pages that don't have meta descriptions, each item is something you may not have known your website needed. Adding or fixing them can make a huge difference to your site's performance.
What SEO Issues Could My Website Have?
The landscape of website design and performance, as well as SEO, is always changing.
Google and other search engines constantly update their algorithms, which determine what improves a website's rankings and what hurts it. And the technology and best practices for websites evolves frequently, with old plugins no longer working and new ones helping to improve the look and function of a website.
Just like the digital community is constantly changing, so are the businesses that exist online.
For example, if your website links out to other websites, and you haven't checked up on those links in a while, chances are you've got some broken links that need fixing.
Broken links occur when:
A website changes its structure and moves pages around, changing the URLs.

A website shuts down.
Any links you created to the other website, if those pages have moved or the website is defunct, will no longer work. These broken links frustrate your visitors who may have wanted to follow them, and they impact your SEO.
No matter the size of your website, the niche you're in, or the geographic location where you do business, a properly updated and optimized website is important to keeping your business SEO-friendly.
What Information Is Important in a Website Audit?
Comprehensive website audits are comprised of a variety of data relating to the technical and SEO aspects of your website.
Each piece of information serves a specific purpose in how your website is used, displayed, or found on search engines. Conducting an audit without some of these pieces is only going to be partially effective.
Some of the building blocks of a thorough SEO audit include:
Redirects

Pages blocked by robots.txt

Malware

Missing meta descriptions

Google Analytics installation

Missing or duplicate page titles

Duplicate content

Images missing alt text

Broken links

Broken images

Missing headers on pages

Page speed
Some of these factors play a large role in your site's performance, while others don't impact things all that much. However, when put together, the impact of a poor-performing, poorly optimized site can prove disastrous for a business.
How Can Raven Tools Help Me Audit a Website?
Performing audits on your own website or a website that you manage is traditionally a complex, time-consuming process. If you invest in some help with the audit by outsourcing the audit to an SEO pro or an agency, you may end up paying a lot of money to find out your site has only a few issues.
Raven Tools allows you to audit your website or your client's website without having to follow a complex how-to guide or paying a high price tag.
Benefits of the Site Auditor Tool from Raven Tools
Here are just a few reasons to choose Raven Tools for your website audits:
Save Time
No need to manually go through a website looking for problems or typing the URL into several different analysis tools. The Site Auditor quickly and thoroughly evaluates your URL for every data point, automatically recording the results.
Run occasional audits on your own with the manual setting, or allow Raven Tools to automatically crawl your website on a set schedule and report on any errors found.
Get the results you need to make your website better in a fraction of the time.
Save Money
Performing a website audit can be expensive. Whether you're spending man-hours learning about auditing, conducting the audit, and creating a list of next steps, or you outsource to a third party, finding all the errors on your website can cost more than it feels like it should.
And investing in all the different SEO tools you'd need to correctly crawl your website and diagnose problems can add up to a small fortune in monthly subscriptions.
Because Raven Tools pulls data from a variety of trusted aggregators, including Moz, Majestic, and Google, you get access to all the data you need in one easy-to-find place. No need to subscribe to multiple platforms, or remember a bunch of logins.
Actionable Reporting
Data without a plan is just a bunch of numbers.
With Raven Tools, turn your audit report into a clickable checklist you can utilize as you complete items.
Did your report show missing meta descriptions on a few pages that you just recently fixed?
Check them off and move on to the next item.
You can quickly and easily share the results of your audit with your team or SEO or digital marketing agency. Get the data into the hands of the people most equipped to correct the problems quickly and correctly.
Great for Agencies
As an agency, you've got clients counting on you to make sure their websites are optimized and set up for success. Part of every SEO agency's process should be routine audits of client websites – something that can eat up a great deal of man-hours.
With Raven Tools, not only can use the audit tool for each client, but you can create individual reports for their viewing too.
Our fully whitelabel platform allows you to add your logo and branding to our software, making the audit reports you send to clients look as if they took you hours to create. You can give each client their own unique URL for viewing audit and SEO reports, keeping your agency's work transparent every step of the way.
As a bonus, our built-in audit issue checklist makes it easy for you to prioritize your next steps for client work. No more guessing what needs to be done.
Automatic Auditing
Do you often forget to run an audit on your website, only to find out months later that a plugin was broken or you've got pages set to not be crawled by search engines? That's possibly thousands of visits and potential customers you may have lost!
With Raven Tools, you can automatically set the Site Auditor to run audits on your website at intervals you choose.
Think you've fixed all the issues and your site only needs to be checked over once a year? Raven Tools can do that.
Do you want to be sure that the changes you've made are registering on your site, so you'd like it crawled a couple times a month? You can set Raven Tools to do that for you.
How to Audit a Website with Raven Tools
Now that we've covered the "whys" of using Raven Tools for your website audits, the "how" of running a website audit is simple.
Step 1: Login to Raven Tools & Select the "Site Auditor" Tab
This is where you'll configure your Raven Tools to run an audit of your website. It's located under "SEO Research" > "Site Auditor."
If you use Raven Tools just for your own website, you can leave the bars at the top set to "My Profile" and your own site URL.


When running an audit on another site, whether for a client or one you manage, you will select that site from the dropdowns at the top of the page.
To run an audit now, click "Crawl Site" and let the tool do its work. It's that easy!
Your auditor is automatically set to run audits manually and to crawl no more than 10,000 pages, but you can changes these settings by clicking "Tool Options" > "Settings."
Step 2: View Your Website Audit Results
Once the audit tool has finished crawling your website, you can view the results.
The Site Auditor gives you several categories of information, including:
Summary: The colored bar at the top of the Summary page shows you what percentage of your issues were in three main categories: Link, Image, and Other.
Below that, there are tabs that summarize the audit's main findings on Visibility, Meta Issues, Content Issues, Link Issues, Image Issues, and Semantic Issues. You'll see the number of problems found in each category, as well as a listing of the number and type of issues found.
If there are no issues in a category, you will see green checkmarks next to a short description.
Visibility: Here, you will find a listing of the pages on your website and information on which pages may not be visible to users or search engines. The Site Auditor looks for:
Pages with redirects

Pages blocked by robots.txt files

Page errors

Malware
Meta Issues: Your website's meta data is a key part in how your site is found by search engines. The Site Auditor looks for:
Missing meta descriptions

Titles that are too long or too short

Pages missing Google Analytics

Duplicate meta descriptions

Missing and duplicate page titles

Meta descriptions that are too short or too long
Content Issues: The content on your website is important for bringing in traffic, selling your products and services, and converting visitors into customers. The Site Auditor checks for:
Duplicate content on pages

Pages with low word count
Link Issues: External and internal links are vital to your site's SEO. Internal links help search engines understand how your site is organized, while external links show search engines that your business doesn't exist on its own island. You've done your research, you know your industry and your customers, and you're pointing them to further resources on your topic. The Site Auditor looks for:
Broken links

Missing anchor or alt text

Use of rel="nofollow" link tagging
Image Issues: Your website needs to be more than just words, and the images that you use should be relevant to your website, load easily, and enhance the user experience. The Site Auditor looks for:
Missing alt text

Missing title text

Broken images
Semantic Issues: The way your website is organized, both at the page level and within each page, helps search engines link your website up with relevant user searches. The Site Auditor looks for:
Schema.org microdata

Use of headers on pages
Desktop & Mobile Page Speed: How quickly your website loads can make a huge difference on whether or not visitors view your website or for how long.
Step 3: View Suggestions for Improvement
Raven Tools doesn't just tell you what's wrong with your website; the Site Auditor gives you detailed information on how to improve the problems it has found so your website performs better for users and in search engines.
Under each of the category tabs, you will find suggestions of tasks to complete that will correct errors found by the audit.
Some of these tasks will point to specific pages, such as a listing of pages that don't have meta descriptions. Others, such as minifying your CSS, may be site-wide tasks to improve the performance of your entire website.
Step 4: Fix the Issues
Thanks to the Site Auditor Studio within Raven Tools, you can create a shareable checklist of the suggestions for improvement on your website.
If you outsource your SEO, or you have someone else on your team that assists with these tasks, this list can direct tasks performed on your website and, as they're completed, checked off the list.
Simply click the "Visit Site Auditor Studio" button and it takes you right to your personalized checklist!
Audit and Optimize Your Website with Raven Tools
Staying on top of the latest technology and best practices for websites is essential to keeping your business in front of potential new customers and accelerating growth.
If your website is slow, outdated, and doesn't keep up with SEO best practices, you're going to be left far behind the competition.
The best way to make sure your website is performing well is to routinely run website audits, which check for any issues that may impact your site. While audits used to be cumbersome and expensive, or you had to trust a third party to run them for you, Raven Tools makes keeping track of your website's performance easier than ever.
With Raven Tools, not only do you get a listing of the problems that may be holding your website back from better performance, but you also get an actionable, easy-to-follow checklist of suggestions that can make your website better.
Keeping your website up-to-date and in solid competition with other businesses in your space doesn't have to be difficult. With Raven Tools, you can get it done in minutes with just the click of a button.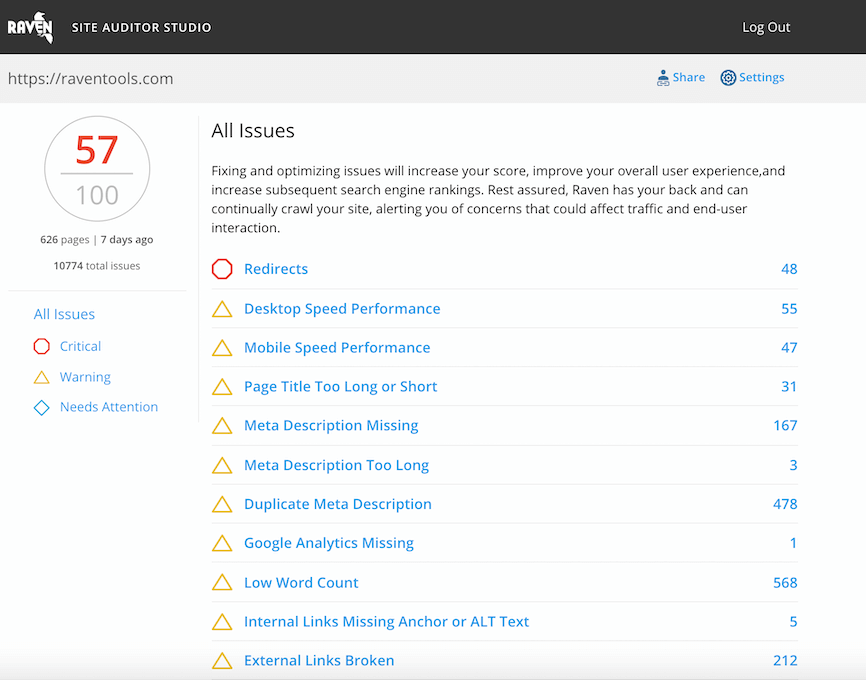 Analyze over 20 different technical SEO issues and create to-do lists for your team while sending error reports to your client.