---
---
The doctor is in and it's time for a checkup.
An SEO checkup, that is.
No matter how well optimized your website is, there's still likely to be some issues that need to be addressed.
These can include technical SEO issues, slow page speed, duplicate content, broken links, or anything else that could be preventing your website from getting all the traffic (and conversions) it deserves.
Conducting a site audit is the first step in identifying any website issues that you may have.
Here's why you should audit your site on a regular basis – and how to conduct a comprehensive site audit the right way.
Why you need a site audit
A site audit is done to identify a wide range of website issues. It determines whether your website is fully optimized for search engine traffic, has any broken files or links, loads quickly, is user-friendly and has top-notch content.
Conducting regular site audits is important because even though your site may still be generating traffic, you want to be sure that it is reaching its full potential. Not addressing these issues could mean a plateau or even decrease in traffic, or a decrease in conversions.
SEO is a continuous effort that involves the consistent checking and optimizing of your website. Add regular site audits to your process to ensure that your site (or your client's site) is always set up for SEO success.
How do you conduct a site audit?
Conducting a manual site audit is a lot of work. Even for seasoned SEO pros, conducting a site audit is no cakewalk – especially for older, larger websites. When you get into thousands, tens of thousands, or hundreds of thousands of pages and resources on a website, an audit tool becomes absolutely necessary, although a manual element still must exist for an effective audit.
Fortunately, there are several SEO tools available to make website audits even easier.
1. Choose a Site Audit Tool
We have our own Website Audit tool, but plenty of tools have popped up since we first started. Ahrefs has its own version, SEM Rush has their own auditor, and then some more niche specific tools like Screaming Frog and Sitebulb exist as well that exclusively provide audit services.
All of these tools are premium (paid) SEO tools but have the best reputation for being thorough, accurate, easy-to-use, and comprehensive. It's important to keep in mind that the difference between a free site audit tool and a paid version is massive in terms of capability and reliability. 
These site audit tools allow you to:
Scan your website for any technical problems

Identify on-page and off-page SEO issues

Check for broken files and internal or external links

Find weak or duplicate content

Assess page errors, page load speed issues, and pages blocked by robots.txt

Generate a checklist of problems to fix
Using an SEO tool (or several) is the best way to identify any website issues and generate a report of problems that need to be fixed.
We recommend signing up for a free trial for each of the tools to determine which platform is best for you.
2. Run Your Website URL Through the Site Audit Tool
Once you have chosen a premium SEO tool, you will have the option of entering your website URL into the site auditor.
The site auditor will crawl your website in order to generate a comprehensive report of all website issues. Every tool is a bit different in how they display the results.
For example, the Raven Tools Site Auditor will generate a robust checklist of website issues in order of priority and will list the number of issues in each category.
This makes it easy for you to identify what needs to be fixed and check items off as you go along.
Once you have this report, you can review the issues by category.
Below, we have broken down each main category of potential website issues and what to look for in your site audit.
3. Find Technical Errors
When most people hear "SEO audit", what comes to mind are typically technical issues.
All of these issues can impact SEO, but even if you aren't prioritizing SEO for your website, fixing the technical issues will still help your site run more smoothly and be more user-friendly.
That's why it's important for ALL website owners to conduct site audits on a regular basis.
Your site auditor tool will generate a list of technical errors that need to be fixed on your site. These can include:
Crawl errors:

These appear when the tool identifies pages that are unable to be crawled by search engine bots

HTTPS status:

This determines whether your site's SSL certificate is up-to-date (i.e. "http://" vs "https://") and whether your site is safe for users to access

XML sitemap status:

Your XML sitemap is essentially a map for search engine crawlers. This determines whether your sitemap is formatted properly, includes all updated pages, etc.

Site and page load times:

Find out whether your site and pages load quickly (or slowly). Slow load speed can impede user experience

Mobile friendliness:

Is your website accessible via mobile devices? Are there any glitches or accessibility issues?

Broken images:

Make sure that all images show up correctly on your website and don't show a broken link

robots.txt file:

This checks whether all of your pages are being indexed correctly (and if the pages you DON'T want to be indexed aren't being indexed)

Broken links:

Find any internal or external links are "broken" (i.e. aren't accessible to users or the page it is pointing to no longer exists)
Most of these technical issues are simple to fix either on your own or with the help of an SEO expert or web developer.
Even checking a few of these errors off your list can significantly improve your website's online presence and user-friendliness.
4. Identify SEO Problems
Undeniably, there is some overlap between what may be considered to be "technical issues". "on -page SEO issues", and "off-page SEO issues". In reality, all of these issues can affect SEO in one way another.
Here, we are using the SEO category to include anything was not covered in the technical section of the site audit. These are the components that are most commonly associated with SEO versus a standard website audit.
Common issues identified in an SEO audit include:
Duplicate, short, long, or missing title tags

Duplicate, short, long, or missing meta descriptions

Missing or duplicate image alt text or title text

Google Analytics code missing

Presence or absence of H2, H3, etc. headings

Missing or incorrect schema.org microdata

Non-optimized internal links and anchor text
The site auditor will specify which issues need to be addressed and how. This could mean re-writing your page titles, writing longer meta descriptions, adding H2s, and more.
While seemingly insignificant, all of these issues can play a role in your site SEO. You will also want to be sure that you are targeting your focus keywords correctly by including them in your title tags, meta description, etc.


Some site audit tools will check for keyword cannibalization as well. This will let you know if you are targeting the same keyword on multiple pages, thus hindering your ranking abilities.
If you have any issues about finding and fixing SEO issues, contact a reputable SEO professional for assistance.
5. Analyze Design and UX
Many SEO site audit tools will analyze your website's design and overall user-friendliness (UX). Both of these are important when it comes to how users interact with your site, how you communicate with the customer while on page (i.e. Using Live chat or text enabling app on your site) how long they stay on your site, and whether they convert into paying customers.
Components such as site Navigation and Page Depth will indicate whether your site is easy to use and how easy it is for them to find information on your site. For instance, it's recommended that the majority of your content be accessible within 3 clicks away from the Homepage.
Make it Easy for Users to Find What They are Looking for
If your site navigation uses confusing terms, content is buried deep in your website, or your design is all-in-all clunky, it can make for poor user experience. This may frustrate users, making them leave your website before ever making a purchase or filling out a form.
Conduct a site audit to find any design and UX issues. You can work with a UX expert or web designer to optimize your site for conversions.
6. Assess Website Content
Having great content is such an important component of SEO, as well as actually converting users on your website. It's not a place to cut corners.
A thorough site audit will identify which pages are ranking for your focus keywords – and which pages may not be ranking at all. It will also identify any pages that have shallow content or "duplicate" content.
Duplicate content refers to content that may be too similar to another piece of content on your website.
Ideally, every page on your website will serve a specific purpose, so the content on those pages will be written to match. Google can see duplicate content as an indication that the content may not be particularly helpful to users or that the webmaster has not taken the time to write unique content.
Some best practices for SEO content include:
Content adheres to the overall page goal and purpose

Content is concise and helpful to users

Content is well-organized and structured according to SEO best practices

No spelling or grammar mistakes

No "filler" content (i.e. all content serves a purpose)

Content includes helpful bullet points, numbered lists, and pictures as needed

Content is optimized for mobile (short paragraphs with white space)

Include internal links to relevant pages and external links to reputable websites

Content is unique and isn't duplicated or plagiarized
For more SEO content tips, check out "The Key to SEO Content Writing: 6 Step Guide" on the Raven Blog.
7. Generate a Checklist of All Site Issues
The last step of conducting a site audit includes generating a comprehensive checklist of all of the site issues that need to be fixed.
Most tools will create a digital report for you to check off online, along with basic instructions on how to fix the issues. Raven allows you to create a checklist that can be filled out with your team or your client, and allows you to literally check off a task when its completed, or to select a specific site audit KPI and integrate that into a report that allows historical tracking of progress.
You can also share the checklist with other members of your team or with the SEO agency you are working with. Or, you can print out the report for a physical copy.
Having a checklist of all technical, SEO, design, and content issues makes it easy to keep track of what work needs to be done. This way, you'll have an agenda for where to focus your SEO efforts and can be sure not to miss any important details.
As you finish up, you can include any metric you'd like inside of an SEO Report within Raven Tools' Report Builder.
Conclusion
Conducting regular site audits is an important responsibility when it comes to optimizing your website.
By identifying all website issues as they come up, you can stay on top of your website maintenance before it becomes too much to manage. This way, you can tackle any problems one issue at a time and be sure that your website is set up for SEO success.
To conduct your first website audit with Raven Tools, sign up try the Site Auditor today.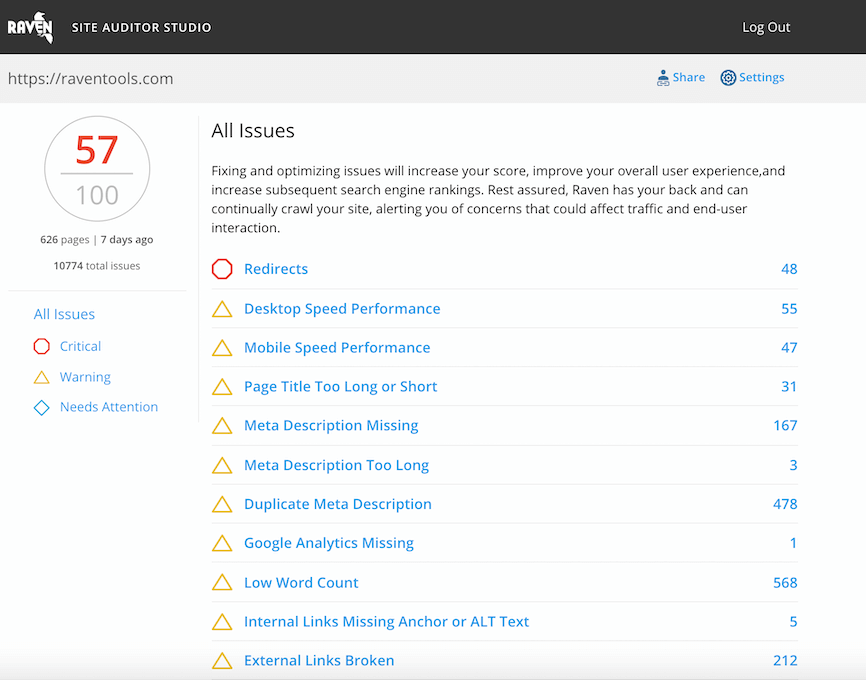 Analyze over 20 different technical SEO issues and create to-do lists for your team while sending error reports to your client.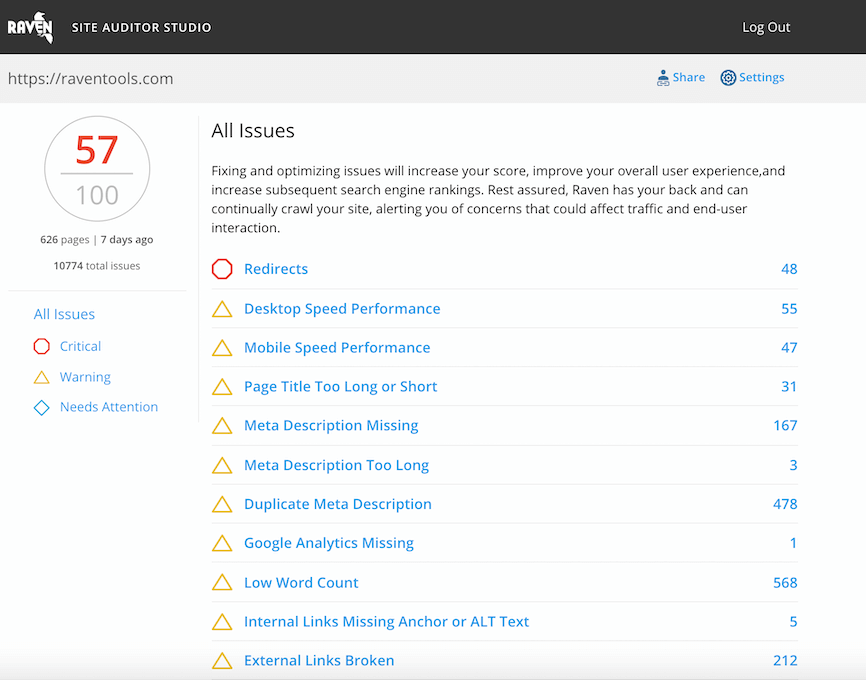 Analyze over 20 different technical SEO issues and create to-do lists for your team while sending error reports to your client.