Dedicated Team is one of the most preferable business models that describe an agreement between the client and service provider, where the second party renders services of the dedicated development team to the client for the long term.
Table of Content
1. Introduction
Software developers of a Dedicated team are selected as per  the client's project requirements, analyzing the skills and experience of each team member. 
In this development model, our clien can manage the team members from your enterprise side or assign a project manager that coordinates the communication process between both parties (for a certain period of time) for project management. 
The best part of this model is the pricing system; it is a transparent and simple team model. The payment simply depends on the team members and the value of recruited technical software solution developers in the digital market.
Dedicated developers are the most suitable development team when the project scope is not rigidly defined and requirements might change throughout the development process. 
Although, the main goal of the dedicated model is to hire a dedicated team to compensate for the lack of expertise and methodologies for your in-house team of developers. But for these reasons, you can't choose to work with this model. You need a solid reason why and when your project requires a Dedicated Team model. 
So, let's find out when you should consider using a Dedicated Team Model for your project?!
2. Find Out if The Dedicated Development Team Model is Good for your Project or not.
Outsourcing a dedicated team from another country is a big deal, and you need to be precautions about whether or not hiring a dedicated team is the best option for your project that is best for your project.
Understandably, you want the best for your project and no doubt dedicated is most preferable among the software world but to pick the model, first you need to identify the advantages Dedicated Development Model and check whether it is good for your business or not.
To decide that you should define the type of project you are operating on at the moment.
If your project is one of the huge and long term projects with a diversity of tasks and constant modification for a high-quality product, then a dedicated team model is one of the best options for you. 
At the same time, if your small projects have time, limitations with a due date and predetermined resources,  then you don't need to hire full-time designers or project managers and a dedicated team model would certainly not be suitable for your project.
Another point to take into consideration for selecting a Dedicated Development Team model is your budget, if you have a limited, strategically planned budget than a dedicated team model is not for your enterprise.
3. Who is Eligible for Dedicated Software Development Team Model?
The dedicated team model is best for those clients who have awareness of the complexity and dead-falls of their dedicated software development project.
The enterprises need to invest in progressive and continuous software development teams for a quality product. This model is for those who desire to have the best team of experts of technologies, design, team of dedicated developers who have skills and knowledge of software development for the project.
The main element that the client should know is setting up an iterative process for a new project where the development team requires a large number of stages. 
If your enterprise is willing to work with a team of dedicated software developers who have the ability to present their perspective and consider your idea as well, so if you could coordinate with this kind of team then hire a dedicated development team.  
4. When You Should Consider the Development Team Model is the One for Your Enterprise?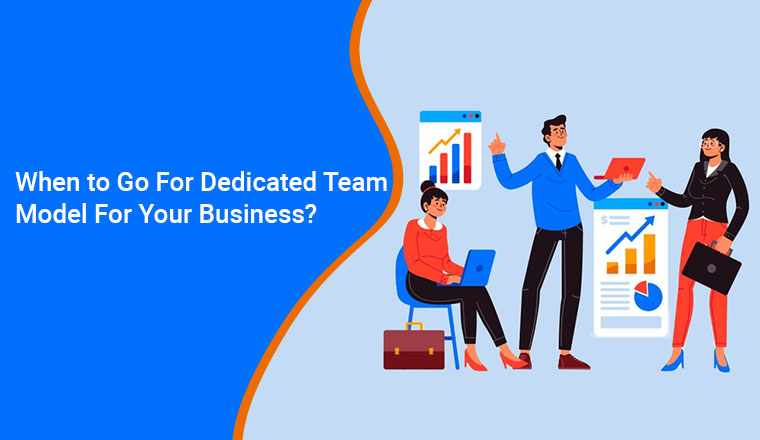 Define your needs and the potential risks to Business analysts. Then they will  determine whether this model is right for you or not. 
1. Projects that Will Grow and Expand Quickly
If your project is a big one and it has the potential to grow into an even bigger one, then find the best-dedicated team in the market. In this way, you can assemble a team instantly and will be able to skip the wearisome recruitment and process of hiring a dedicated team, and in the end, you will have hand-picked team members.
2. Projects that Have a Fixed and Considerable Workflow
Since you're planning to hire dedicated development teams to work on your project, you need to provide them with enough work to keep their pipeline busy. Otherwise, you'll have to pay for the days (or weeks) they sit around with no active tasks to do. This option is best when you have a steady workflow, as you've hired an entire dedicated team that will work on your project in various aspects, so you need to give them sufficient work that will keep them highly occupied.
Because whether you have a task for them in hand till the next activity or not, the cost still is the same that your company has decided to pay, so assign the work in that order. 
3. Best for Long-term Projects with Various Tasks
As we discussed that the dedicated team needs to assign the work continuously, the main reason to render each task of the development process to an entire dedicated team is because of Flexibility.
The dedicated software development team model is best known for providing their work with flexibility in the industry where the tech stack and software development methodologies are changing rapidly and only a flexible dedicated team can embrace and adapt, the change in the industry immediately.
That means you can change the requirements in the development process by implementing brilliant ideas in any phase of the project that will give you a high-quality product in the end.
5. Why Dedicated Development Team is the Best Option for Your Project?
There are various benefits of hiring a dedicated team, as the dedicated teams satisfy all your project needs and getting excellent software products at a moderate cost frequently. 
When you have detailed information and awareness of all requirements of your product along with goals then it is best to have a tailor-made deal.It helps you to efficiently spend your resources and money for the outcome during the time of release.
However, before choosing this team model you have to be careful it is applicable for your project or not after you determine that it is right for you then outsource it from the most reliable and respectable software company. Now let us have a glance at the pros and cons of Dedicated Team Model! 
1. Advantages Dedicated Team Model:
By keeping the below advantages in mind you can decide for yourself whether you need a dedicated team model or not!
Hiring Dedicated teams allow companies to a predict and predefined budget for the software project
The undefined project scope helps you to modify the features throughout the development process 
Your enterprise can claim full control over the dedicated team with project management tools
The dedicated development team provides full-time administrative support to their client.As the dedicated team deeply understands the client's project and work according to their goals
You can hire software engineers for dedicated teams, who have a comprehensive understanding of the project and business goals
You will have continuous communication with the dedicated team, which means get to know each update of the project using Jira, Skype, Asana, and Trello
Cost efficiency is the main reason for outsourcing this business team model
The dedicated team of software developers will be stable and is entirely dedicated to one particular client at a time
The dedicated team model in outsourcing will excellently satisfy a compelling project with evolving requirements and responsibilities to meet the defined end goal.
2. Disadvantages of Dedicated Team Model:
The dedicated teams model has low efficiency for a Short-Term Project, this model most suitable for long-term web development projects.
If your in-house team has clearly delineated goals and the set of terms for small projects, then signing a contract with a dedicated team of developers might be a rash decision.
Apart from the benefit of cost-efficiency, DDT team members have to suffer the issue of different time zones, which is a serious predicament if an offshore company is included.
Dedicated development team model is time-consuming, the clients can keep their hands on the beat of the project, but it will take much time for the management to finish the project.
3. How to Structure a Dedicated Team for Your Projects:
The composition and team structure of your dedicated team depends on your project requirements. As a result, you will be hiring dedicated team which may consist of the following dedicated team members with broad skill sets and expertise:
UX/UI Designers
Team of Backend Developers
DevOps Engineers
QA engineers
Project Managers
Business Analysts
4. Where to Find and Hire Dedicated Teams for Your Project:
Outsourcing in the IT field has become so successful that today there is a ton of support to find a reputable tech partner. Apart from Google search result services such as GoodFirms and Clutch render essential information regarding the software company and customer reviews about the development teams so that other possible clients can estimate the company's expertise and reliability. With this list, you will be able to find the most current services and hire a dedicated team comprising of an expert team of developers but also Project Manager, QA Engineers, and many more..
Clutch: Clutch is one of the best platforms that stores data regarding several business people. Here you can obtain information about the company's team size, minimal project cost, location, and so on. In the report, businesses always define the services they render, you can review clients' reviews and the global ranking and choose a correct development partner as per your project requirements.
IT Firms: This platform brings up records with the best team of software developers in various regions. You can utilise IT Firms to eliminate weak applicants and grasp only the best ones.
GoodFirms: It is another platform that assists companies to pick a software development company. This site has in-built filters that separate specialists as per their specialization. The platform also generates reports in various fields and businesses that may be beneficial for the client while seeking a tech partner according to their project requirements.
6. Comparison of Outsourcing Business Models: Dedicated Team Model vs Time Material Model vs Fixed Price Model
A client engagement model is a project that determines the purpose of collaboration between the software company and the client.
The engagement model essentially proposes at demands, requirements, and interests of the customers by guaranteeing the level of efficiency, compliance, and control.
Outsourcing isn't only about dedicated teams. There are three most wanted engagement models that are practised in software development and they are a dedicated team, time and material, and fixed price model.
1) Dedicated Team Model: Dedicated Team Model is known as a business model which is gaining enormous fame in the IT outsourcing business.
In this model, the service provider, and the customer, contract a mutual agreement for the long term according to the project specification workload for a specific period of time.
2) Time and Materials Model: In the Time and Materials Model, the costs required for development are based on the time and the number of resources appropriated by the development company for the small projects.
One of the most essential points to acknowledge is that the client does the payment for the total time required for the development of the project.
3) Fixed Price Model: It is primarily a fixed price agreement where the developers of a dedicated team of the company proffer the short term projects within a selective sum that is recognised by the client and the company.    
The Fixed Price Model is beneficial for the customers as they don't have to spend anything besides the decided price. 
7. Wrap Up
A dedicated development team model is one of the finest and closest collaboration plans you can have with a software development company, however, it is essential to decide whether you need it or not.
As it will match the competencies of both business and tech-related and it helps you to move forward with your project concept quickly.
So, comprehend all of the above aspects and decide whether your project needs flexibility and comprehensiveness for products to reach out to new markets. Once you tick all the necessities and the answer is yes, then you have a great model for your software project.