The dilemma of the functioning software is always dubious. Not all software works as expected and in the majority of conditions they do not meet the expected benchmark. So, now what? What are businesses supposed to do in such cases? Well, there is always a way out and in such cases where the software doesn't meet the standards. The most common solution to this is Testing. For businesses may encounter many challenges during the development phase such as destroying your wonderful concept, bad architecture structures and other bugs that are tanking your earnings. Testing is a one shot solution for all these complex challenges. Testing may sound easier but it takes a fortune to develop and test applications and that's the reason businesses go through evaluation while choosing a software testing services company.
1. Steps to Select a Right Software Testing Services Company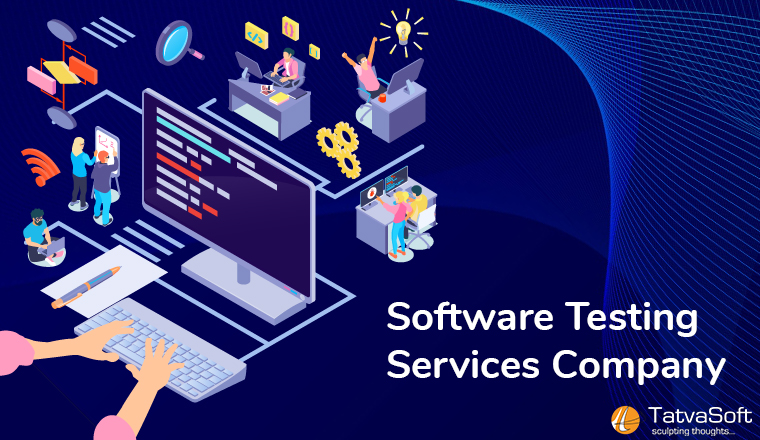 There are various strategies to reduce the hazards of low-quality items while remaining efficient and under budget. Outsourcing some company processes is the most typical approach. Software Testing by experts like outsourcing companies will help you grow irrespective of the ability of developing the software. They help you raise the bar and standards of business and in addition they streamline tasks and services through software. So, it's very important to hire the right company for your business who would help you before the situation goes awry for your business with their software testing skills.
This blog is a precise roadmap for you and your enterprise to select the right partner for your enterprise app development process. So, when you choose an outsourcing partner there are certain specific aspects that you must keep in mind. These smaller checkpoints will help you build a better, secure and performing application. Lets get deeper into how each aspect plays a key role in the testing process of Software apps.
1.1 Analyzing your Testing Requirement
For a business owner or Project manager leading a very crucial project for your company, there is one simple way for high-performing and quick applications and that is checking the test requirements.As we know, we are well aware of how time-consuming and complex the decision process can be, as well as the consequences of making the wrong option for your company.
So, as the founder or leader you must ensure that there is an independent software testing firm whether inhouse or a leading outsourcing company with a unique perspective on software quality assurance.
In the process of managing Testing process, these are the few aspects we must be check
Examine a requirement to ensure that all potential situations have been addressed, and look for any gaps or unreported cases.
Check to ensure that all claims are valid, true, and logical.
Attempt to identify all ambiguities in the specifications
Find inconsistencies with other criteria as well as internal and external standards.
Check to see whether there is a method to verify that the implementation fulfills a criterion
Analyzing the whole set of requirements is a must to plan and strategize that we must apply which testing method. For this you must have clear understandings of each type of method and their testing definition.
This technique aids in determining what sorts of mistakes are likely and how frequently errors occur in certain sections of code.It also aids in the validation of requirements against a database of issues.
1.2 Understanding Software Testing Services Providers
Yes the second most important aspect is to understand what is the capability of the service provider? For this we need to understand what exactly is software testing as a service in the software development process? To best understand this is by considering an example when you want to build a house. In such a case, as you know you make the plan ready for the house, decide the structure, frame the rooms you need and so one. This is the exact similar case when you want to develop a software. If you have inhouse expertise, you may assemble the best team for this task of software development. Like you look for the best architect, you must find the best software developer team. When you hire a software testing service provider, you must ensure their experience and expertise in developing and testing software.
Comparing with building example, after the completion of the building development, there are auditors to check whether the building has been made maintaining all the standard protocols or not. Similarly, after the development of the software, it undergoes testing to check whether they meet standard quality benchmarks or not. Hence, if not inhouse, then consider hiring a software testing team who meet your apps needs.
A right software testing team will be able to detect flaws before they become big issues, as well as review the code at each stage to ensure it meets the required criteria. They can also approve development phases as your team progresses. You cannot view the software testing process as an afterthought, but rather as an essential component of the of the software testing life cycle.
Starting testing and QA early in the development process can assist you:
You will save both time and money.
Quality assurance providers can nip issues in the bud, catching them early in development so they can be addressed, rather than allowing them to grow into larger problems that require far expensive and holistic solutions later on.
The completion of releases and development are more quicker.
Software testing services enhance feedback, boost developer awareness of the code and product, and can even enable faster releases, especially when continuous testing is automated.
Risks mitigation
You will be able to mitigate risks when it comes to software or applications. You can think to yourself what would be more beneficial whether to build apps and spend money on the errors found after testing or do it concurrently while developing. For obvious reasons, you would choose the second option because it comes with less investment in terms of cost, resources and time.
1.3 Consider the Budget
Once you've determined the quality of their job, it's time to look at their cost. You probably got an idea of what most firms charge for software testing services. Throughout the time they must spent studying the reputation of your testing company prospects. Compare that price range to the pricing of your potential prospects. Are their costs more than you may anticipate for their level of excellence or higher than you can realistically budget) If this is the case, remove those firms from your list.
Of course, if the company is undercharging, then it might be an indication that a software testing firm isn't a good fit for you. If a company has suspiciously cheap rates, it might imply that they outsource their software testing or other services. So, understand the market rates, and then make a decision wisely.
1.4 Determining how easily they Coordinate with Your Team
Your software testing business should be acquainted with your current quality assurance tools and processes. They do not need to be intimately familiar with your company's procedures. They should, however, be acquainted with the tracking software used by your team. Software testing business should also run your programme on every possible platform.
While there is no assurance that a software testing firm will be knowledgeable with every platform, development tool, and project management system available, understanding what they do know can give you an indication of what to expect during cooperation.
1.5 Consider the Security Protocols
The security of application is one of the unavoidable reasons that businesses can never overlook when it comes to selecting a software testing provider. Security is always there in the minds of enterprises and has different ways of implementing it. It should consider all the necessary protocols which need to be protected from leaking or any kind of breach. Make certain that you understand and are completely comfortable with the information and security standards that your chosen provider can provide. Else there is an option of signing an NDA- Non disclosure agreement. Your program and its source code are important intellectual property. Make sure to thoroughly evaluate how that property will be safeguarded. These are some of the factors you must consider while deciding to outsource to a third-party company
Having a solid security policy.
Choosing the Best Outsourcing Vendor…
A solid privacy and intellectual property policy…. Data protection.
Educating people on how to handle data.
The principle of least privilege.
Maintaining application and network security audits.
3. Evaluate and Finally
The last step in this process is to finalize the resource team or company that fits best to your needs. While there can be reasons when you would prefer to keep everything in-house specially when there are experts doing tasks. But for many tasks, you might need domain experience and specialist knowledge. Testing is one such element that necessitates businesses to take help of competent experts and cutting-edge technology. You should preferably outsource to the proper QA partner to make it more resourceful, helpful, and cost-effective.